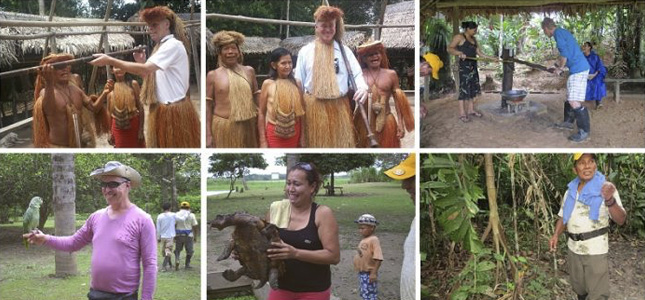 4 Day jungle tour
1st Day
9.00am. We take the boat from port Bellavista Nanay, navigating the mighty Amazon river, get to know the tributaries as Nanay, Itaya river, navigating about 30 km, till we reach touristic lodge 'El Delfin'
1.00pm. Lunch
3.00pm. Boatride to see pink and grey dolphines and take a swim with them.
7.00pm. Dinner
8.00pm. Nightwalk to look for frogs, insects and tarantulas.
9.00pm. Stories and legends of the forest by the guide.
2nd Day
6.00am. Morning hike to observe birds and dawn
8.00am. Breakfast
9.00am. Excursion by boteto the lake for piranja fishing
1.00pm. Lunch and time for relaxing in the hammock
3.00pm Visiting the Yagua indians
7.00pm. Dinner
3rd Day
8.00am. Breakfast
9.00am Visiting animal farm to see and feed monkeys, turtles, anacondas and parrots.
1.00pm. Lunch
3.00pm Jungle hike to get to know the variety of medicinal plants and (fruit baring) trees
7.00pm Dinner
8.30pm. Amazonian stories and legends
4th Day
7.30am. Breakfast
9.00am. General culture and visit to the shaman's house
12.00am Lunch
1.00pm. Return to the city Iquitos, but before we will visit the crocodile farm where we can see Caimanes, the biggest crocodiles of the Amazon. Also we will see the Paiche, largest fish of the Amazon and the biggest water plant 'Victoria Reggia'. We will realize this in the community Barrio Florido, also visiting the observatory Amazonica ' La Torre' where you can enjoy an excelent panorama over the Amazon river and forest.
5.00pm. Arrival port Bellavista Nanay, return to your hotel or hostal.
Bring flashlight, mosquito repelent, longsleeves, pants, shoes and boots.
Cost:
USD 80,00 per day
Included:
Foodmeals, host (cabin, with private shower and toilet), English speaking guide and transport.

Email us now to reserve for the 4 day jungle tour or to get more information.