History of the Tzumi Muraya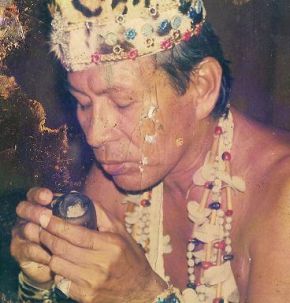 The ´Tzumi Murayas´ are men who obtained ancestral knowledge by following strict diets and periods of fasting, which were led by the grandfather medicineman – Tzumi Muraya.
Traditionally, within the culture of the Cocama Indians, when the grandfather medicineman started to notice that he became old, he searched for a suitable member of the family, to pass on his knowledge. When he had found one, he took him to a special place in virgin forest, far away from where the people lived, to initiate the future Tzumi Muraya.
Through strict diets with plants and trees rituals took place in which Ayahuasca was drunk. This way the future ´Tzumi Muraya´ got spiritually prepared, learned the secrets of the forest and learned to control the 4 elements of the Universe: Earth, Water, Air and Fire. After 5 years when the student had accomplished the diets, the grandfather medicineman expected demonstrations of him, like an exam, and prepared several heavy and sometimes dangerous tests to find out to what extent his student had developed himself spiritually, and to what extend he could control the elements and the medicinal plant and trees.
If the student had endured the tests properly, the grandfather medicineman performed a special ritual in which the new ´Tzumi Muraya´ received his attractions and protection to ensure his future as a medicineman.